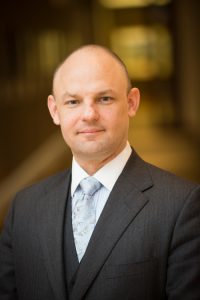 Thomas P. Riley
Tom Riley is an attorney at law and registered U.S. patent attorney with fifteen years of experience helping clients identify, evaluate, and protect intellectual property rights within the medical, consumer and industrial products, aerospace, automotive, and e-commerce industries in the U.S. and internationally. From the initial business concept to ongoing, productive patent, trademark, copyright, and trade secret portfolio strategies, Tom helps clients  to understand, develop, and execute an effective long-term strategy for maximizing the value of their IP assets with a global perspective.
Tom has extensive U.S. and international experience an international practice focused on the preparation and prosecution of patent and trademark applications and counseling regarding patent and trademark clearance, enforcement, and due diligence, including one year working in Munich, Germany with a German patent and trademark firm as U.S. patent counsel. Encompassing a wide range of technology and brand asset planning, development, protection and enforcement, his extensive experience with large worldwide patent portfolios positions him as a leader for broad strategic planning relative to IP and other business matters to his clients.
Tom has served as an adjunct professor at Valparaiso University School of Law and DePaul University College of Law where he taught courses in patent prosecution procedure and patent drafting. Earning a J.D., cum laude from Valparaiso University School of Law, he served as a law review editor and note writer for the Valparaiso University Law Review and as a judicial extern to the Honorable J. Tunheim in the U.S. District Court for the District of Minnesota. He completed a B.S. in Civil Engineering and a B.S. in Land Surveying Engineering, both from Purdue University.
Before entering law school, Tom worked as a structural and construction engineer with Chicago Bridge & Iron in Plainfield, IL and as a marine field surveyor with John E. Chance & Associates located in Houston, TX.
Representative Experience
Prepared, prosecuted, and coordinated international prosecution of a large patent portfolio for a Fortune 500 medical products company, obtaining strategic international patent coverage for a family of leading edge surgical navigation products.
Conducted due diligence analysis of claim coverage, validity, and enforceability in preparation for purchase of multi-patent portfolio for a Fortune 500 medical products company, enabling the client to make informed strategic negotiation and purchasing decisions.
Successfully led litigation to enforce registered U.S. trademark of international specialty transport company, resulting in favorable award for client and cessation of infringing use.Mr. Riley also has experience in:
Industrial process valves and process control systems
Optics, including thin film lenses and large format movie cameras
Liquid crystal displays
Digital printing systems
Internet-based software systems
Distilling systems and petrochemical processing systems
Commercial food preparation equipment
Automotive systems and devices
Aircraft systems and devices
Steel and concrete industrial processing lines
Extrusion equipment
Food storage devices
Air fragrancing devices
Vacuum pump technology
Water filtration systems
Medical diagnostics and imaging
Surgical planning and navigation systems
Orthopedic surgical methods, implants, and surgical tools
Vascular pumps
Dental surgical instruments
Pharmaceutical logistics and processing systems and software
Prosthetic devices
Education
Valparaiso University (J.D., cum laude)
Purdue University (B.S.) – Civil Engineering
Purdue University (B.S.) – Land Surveying Engineering
Bar Admissions
Illinois
Indiana
U.S. Patent and Trademark Office
U.S. District Court, Northern District of Illinois
U.S. District Court, Northern District of Indiana
U.S. Court of Appeals, Federal Circuit
Publications and Presentations
"Challenging U.S. Patents Outside of Federal Court," Bavarian Patent Attorneys Association, March 1, 2016.
"U.S. Patent Prosecution, The Duty of Disclosure, and Inequitable Conduct: A Primer for non-US Attorneys in view of Therasense v. Becton, Dickinson." Presentation to the Bavarian section of the Deutsche Vereinigung für Gewerblichen Rechtsschutz und Urheberrecht at the Deutsche Patent- und Markenamt, Munich, Germany, February 8, 2011.
"Long Awaited Bilski Decision Rejects Claims as Being For an Unpatentable Abstract Idea, Rejects New Broad Categorical Rules as to What Is or Is Not Patentable Subject Matter Under 35 U.S.C. § 101," June 2010.
"Prosecution History Estoppel: The Choice Between Public Interests and Inventor's Property Rights," 36 Val. U.L. Rev. 239 (2001).